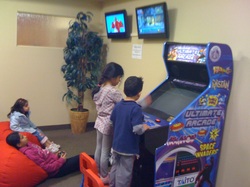 If you are looking for a highly trained and experienced dentist in the Worcester, MA-area, you have come to the right place. Our dental office uses the latest state-of-the-art equipment and cutting edge technology in all of our treatments and we uphold the strictest sterilization techniques. Our patients are very complimentary of our professional etiquette and relaxing environment. We even award prizes to our patients with such fun items as video games for XBOX 360, PS3, and even gaming consoles such as a Nintendo DS or a Playstation 3 Gaming Console.
We know that many people may feel anxious about coming to the dentist, so it is our goal to make your visit with us as pain and anxiety free as possible. From the moment you walk into our office, you will receive a warm and friendly greeting from our staff.
Scheduling Appointments
To make an appointment, simply call us or click here to Request an Appointment online. Should you have any questions or concerns, please do not hesitate to contact us.
Interest Free Financing - CareCredit
In order to facilitate our patients' financial needs, Pearla Dental LLC has just implemented a new payment option - CareCredit. With this new service, we are able to offer our patients up to 12 months of interest-free financing, or up to 5 years of financing with low interest rates! Not only does this allow our patients more flexibility in their finances for great dental care, but the ability to complete treatment programs faster and more easily than ever before.
Payment Options
We accept Visa, MasterCard and Discover credit cards as well as personal checks. We also participate with many insurance plans, which are listed below. If your plan is not listed, please call and ask because we may accept it.

Convenient Location
Our office is located at 490 Lincoln Street, Worcester, MA 01605 in the same plaza as Bob's Discount Furniture. Please enter your zip code or city, state below for door-to-door directions.